PASSAGE by James Parrett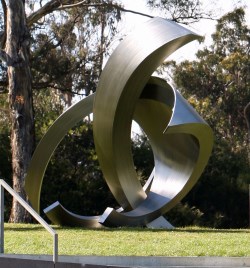 Congratulations to sculptor James Parrett on his winning design for the Rabaul and Montevideo Maru Memorial titled "Passage". In creating his design, James Parrett acknowledges "My immediate response was to create a work that would "protect" the memory of the people who lost their lives as well as the tragedy of the event itself".
Parrett sought to provide an abstract design for future generations that was timeless, both physically and aesthetically. The work would be fabricated in stainless steel, and be approximately 3.5 metres high. The design is based on the manipulation of circular forms, and
refers to themes of physical and personal journeys, and the ocean.
This symbolic design provides a peaceful way of reflecting upon the fall of Rabaul, the New Guinea Islands and the sinking of the Montevideo Maru. An explanatory text panel will be positioned adjacent to the memorial and will provide a brief account of the events.
The location for the Rabaul and Montevideo Maru memorial is in the Australian War Memorial's award winning Eastern Precinct, designed by Johnson Pilton Walker. This site commands views across the National Servicemen's memorial and ANZAC Parade and will be positioned not far from the bronze sculpture of Sir Edward "Weary" Dunlop.
The design has recently been approved by the Australian War Memorial Council and will also require final works approval from the National Capital Authority.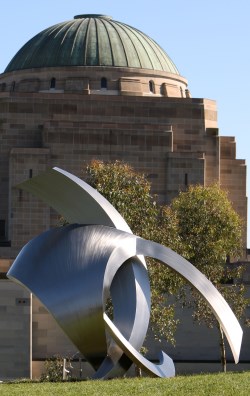 Commissioning of the sculptural memorial will not occur until it is fully funded.
ARTIST STATEMENT
When reading many articles about the events of Rabaul and the New Guinea Islands, and the Montevideo Maru, what struck me was the importance of creating a timeless work allowing people to comprehend the magnitude of this disaster whilst simultaneously feeling at peace. My immediate response was to create a work that would "protect" the memory of the people who lost their lives as well as the tragedy of the event itself. I want people to remember but also to learn.

The ocean is a powerful force, it can be devastating but I also strongly feel that it can also be protective, peaceful and calming. The events in New Britain, New Ireland and on board the Montevideo Maru all centre around the ocean, so I would like to create a memorial that symbolises the ocean and how the ocean is now embracing the victims while also ensuring that the event is appropriately commemorated.

Passage possesses all of the grand elements of a major sculptural work, capturing and balancing both the powerful and peaceful nature of the ocean. The work has a great deal of movement and the circular "wave like" forms will harmonise with its surrounds, with its angled base evocative of a ship's bow steaming through the water. It also creates the sense of protection for viewers standing under or around the piece whilst simultaneously conveying the emotion attached to this tragedy.

The title Passage refers to many things including:
- A boat's trajectory
- The ocean and movement of the waves
- Different people's experiences within the event
- The journey of the families and loved ones who live on
- The span of forgiveness
- Life and lifetimes
- Moving on
Click HERE to read the artist's biography